Transformer 4.0


Digital Revolution
of Power Transformers


R&D Project
Transformer 4.0 : Digital Revolution of Power Transformers
International Partner
Massachusetts Institute of Technology (MIT)
Leader
Efacec Energia, Máquinas e Equipamentos Eléctricos, S.A.
Copromoters
INESC TEC – Instituto de Engenharia de Sistemas e Computadores, Tecnologia e Ciência (http://inesctec.pt/)
INEGI – Instituto de Ciência e Inovação em Engenharia Mecânica e Engenharia Industrial (https://www.inegi.pt/)
Begin
2020-07-01
End
2023-07-01
Overview
The Transformer 4.0 (TRF40) project seeks to introduce the digital transformation in power transformers, whose design and manufacturing are areas where Efacec holds a global leadership position. Aiming for this transformation, a comprehensive research plan focused on the Digital Twin (DTwin) concept will be implemented. This DTwin, as a virtual counterpart of the physical system, will enable disruptive approaches in the transformer design and manufacturing – with new communication models – and will offer new added value services – such as intelligent condition monitoring, preventive maintenance, aging evaluation under determined servicing conditions, among others. It will also follow the physical product during its whole life cycle through a DT enabled platform powered with optimization and artificial intelligence tools, will enable valuable insights about designing future systems, and will predict the system's response to different types of disruptions in the grid. Furthermore, digital manufacturing will be explored through additive manufacturing, which has the potential to revolutionize the design and manufacturing of power transformers. This feature integrated with the Digital Twin platform will allow for a disruptive approach in the manufacturing and servicing of transformers.
This project joins complementary research competencies: Efacec, as designer and manufacturer of power transformers, INESCTEC (computer science, industry and innovation) and INEGI (mechanical and industrial engineering), these being Portuguese research institutes, and the MIT, namely the Sociotechnical Systems Research Centre, and thus enabling a comprehensive and multidisciplinary research program. Although this sector has been a conservative innovator, the proposed research project will allow the preparation of the conventional power transformer for the complex challenges, trends, needs and opportunities of the fast evolving 'Energy 4.0' sector.
OBJECTIVE
Transformer 4.0 project aims to accelerate the digital transformation of the electrical power transmission system in its several dimensions and components, in particular the power transformer product lifecycle (from the product's preliminary design to the product upgrade).
Specific Objectives
1. Digitalisation of the power transformer product lifecycle through the development of its digital-twin concept
2. Exploitation of knowledge-based engineering processes and techniques supported by the power transformer digital-twin.
3. Supporting the creation and evolution of new product-service systems (PSS)
4. Exploitation of additive manufacturing techniques applicable to energy industry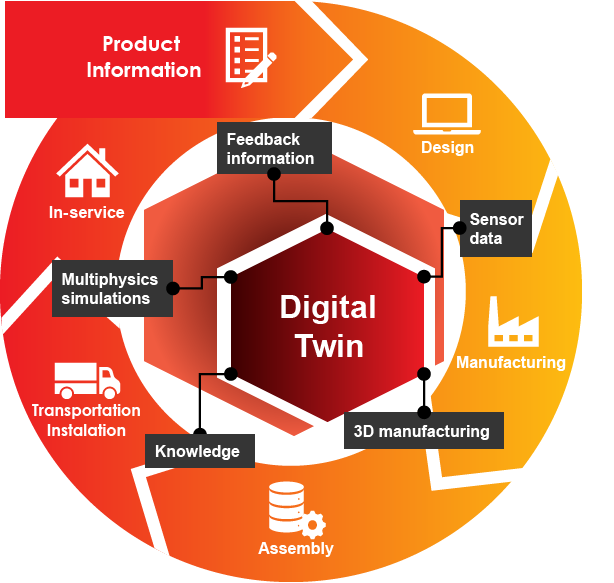 PUBLICATIONS AND PRESENTATIONS
Scientific Publications and Presentations

Articles in Scientific Journals:
T. A. Dutra, R. T. L. Ferreira, H. B. Resende, L. M. Oliveira, B. J. Blinzler and L. E. Asp, "Identification of Representative Equivalent Volumes on the Microstructure of 3D-Printed Fiber-Reinforced Thermoplastics Based on Statistical Characterization," Polymers, vol. 14, no. 972, 2022. https://doi.org/10.3390/polym14050972
T. A. Dutra, C. Costa, J. R. Matos, B. F. Oliveira, L. M. Oliveira and C. P. Coutinho, "Effects of Printing Parameters on Geometrical and Mechanical Properties of 3D-Printed High-Performance Thermoplastics, Toward the Digitalization of Power Transformers.," in Proceedings of the 2022 International Additive Manufacturing Conference. 2022 International Additive Manufacturing Conference, Lisbon, 2022. https://doi.org/10.1115/IAM2022-91989
Articles in Conferences:
M. Azevedo, S. Tavares and A. Soares, "The Digital Twin as a Knowledge-Based Engineering Enabler for Product Development," in: Boosting Collaborative Networks 4.0. PRO-VE 2020. IFIP Advances in Information and Communication Technology, vol 598, Springer, 2020. https://doi.org/10.1007/978-3-030-62412-5_37
E. Rebentisch, D. Rhodes and A. L. Soares, "The digital twin as an enabler of digital transformation: a sociotechnical perspective," in IEEE 19th International Conference on Industrial Informatics (INDIN), 2021. 10.1109/INDIN45523.2021.9557455
H. D. Silva, M. Azevedo and A. L. Soares, "A Vision for a Platform-based Digital-Twin Ecosystem," in 17th IFAC Symposium on Information Control Problems in Manufacturing (INCOM), Budapest, Hungary, 2021. https://doi.org/10.1016/j.ifacol.2021.08.088
H. Silva and A. L. Soares, "Digital Platforms as Enablers of Smart Product-Service Systems," in PRO-VE 2021 – 22nd IFIP/SOCOLNET Working Conference on Virtual Enterprises, France, Saint Etienne, 2021. 10.1007/978-3-030-85969-5_47
J. L. F. P. Cardoso, E. Rebentisch and D. H. Rhodes, "Adapting Concept of Operations Analysis for Digital Transformation," in International Society of Transdisciplinary Engineering (ISTE) Conference, 2022. 10.3233/ATDE220665
E. Rebentisch, A. L. Soares, D. H. Rhodes, R. Zimmermann and J. L. F. P. Cardoso, "On the use of sociotechnical systems design in industry: digital transformation processes and artifacts," in Socio-Technical Perspectives in Information Systems (STPIS) Conference, 2022.
D. V. Enrique and A. L. Soares, "Cognitive Digital Twin Enabling Smart Product-Services Systems: A Literature Review," in Collaborative Networks in Digitalization and Society 5.0. PRO-VE 2022. IFIP Advances in Information and Communication Technology, vol 662. Springer, 2022. https://doi.org/10.1007/978-3-031-14844-6_7
H. Silva, T. Moreno, A. Almeida and A. L. Soares, "A Digital Twin Platform-Based Approach to Product Lifecycle Management: Towards a Transformer 4.0," in Innovations in Industrial Engineering II. icieng 2022. Lecture Notes in Mechanical Engineering. Springer, Cham., 2023. https://doi.org/10.1007/978-3-031-09360-9_2
Conference Poster:
Efacec: C. P. Coutinho, S.M.O. Tavares, F. Gonçalves, A. Matos, M. Pinto, C. Linhares, H. Mendes, L. Félix, C. Novais, N. Afonso; INESC-TEC: A. L. Soares, R. T. Sousa, V. Esteves, J. F. Pinto, J. P. Pedroso, H. D. Silva, R. Augusto Zimmermann; MIT: D. Rhodes, E. Rebentisch; INEGI: S. Esteves L. Oliveira, J. P. Patrício (2021). "Transformer 4.0 – Digital revolution of power transformers". Poster presented at the 2021 MIT Portugal Program Annual Conference – Science and Technology as the Catalyst for Tomorrow's Living Spaces, 2021.

Dionísio, J., Pedroso, J., (2022). MINLP for Power Transformer maintenance and operation. Poster presented at: XXII APDIO's Congress; November 6-8, 2022; University of Évora, Portugal.

Dionísio, J., Pedroso, J., (2022). Dantzig-Wolfe decomposition for a MINLP for Power Transformer maintenance and operation. Presentation at: MOM Seminar; September 14, 2022; Zuse Institute Berlin, Germany.
Presentation:
"Transformer 4.0 : Digital Revolution of Power Transformers", MIT-Portugal 2020 Annual Conference – Program, Session #1 – Looking ahead: Research & Impact of MPP Flagship Projects, October 15, 2020, Pavilhão do Conhecimento – Ciência Viva – Lisboa, Portugal
Master Thesis:
PhD Theses:
"Towards a Digital-Twin Based, Multi-sided Market of Data-enabled Product- Services Systems", Henrique Diogo Silva. Doctoral Programme in Digital Media, started 2020, FEUP.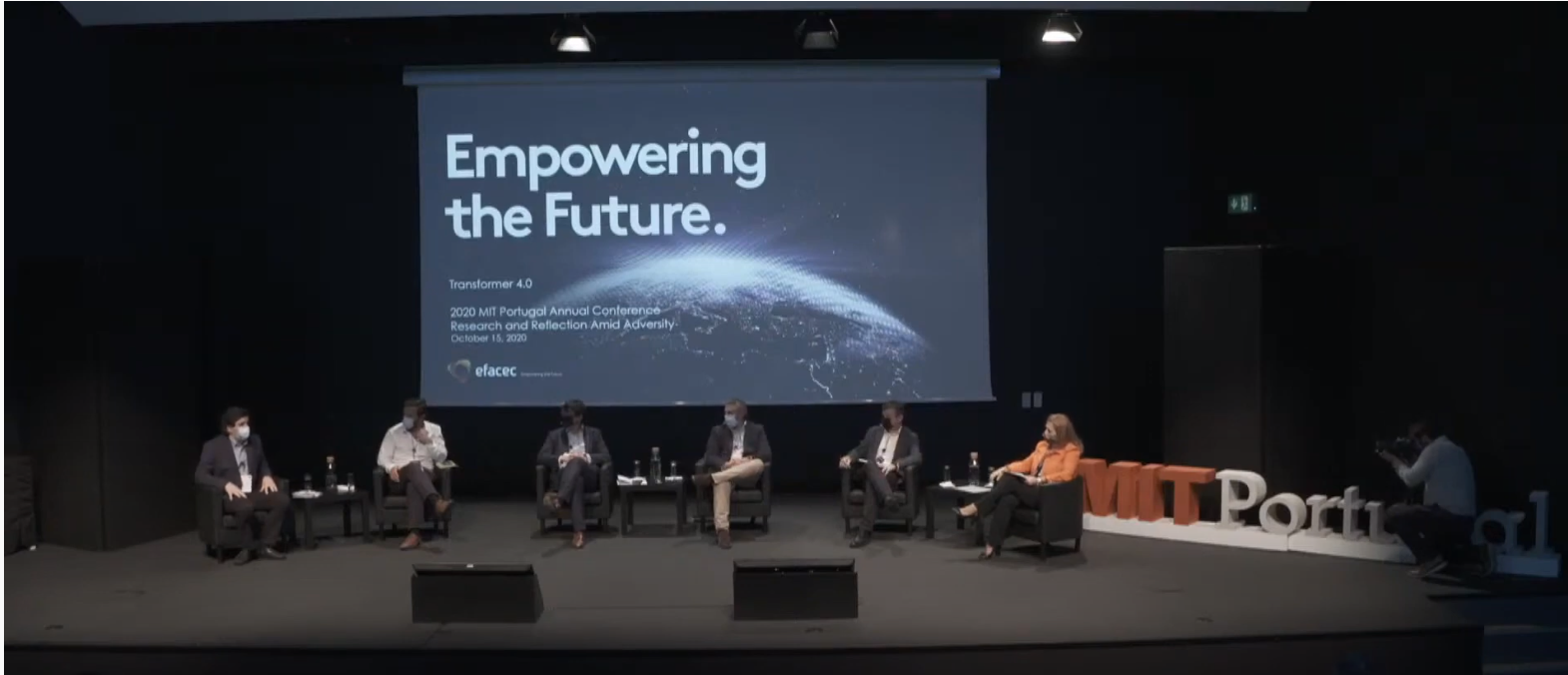 MIT-Portugal 2020 Annual Conference – Program, Session #1 – Looking ahead: Research & Impact of MPP Flagship Projects, October 15, 2020, Pavilhão do Conhecimento – Ciência Viva – Lisboa, Portugal